Digital Marketing Services for Restaurants– Online presence is very important for the success of any business, and the restaurant industry is no exception. Digital Marketing Services for Restaurants are as vital as they are for other industries. In the highly competitive restaurant industry, effective Digital Marketing Services for Restaurants are vital for success. Restaurants must use digital marketing techniques to stand out from the competition and draw hungry customers as more and more consumers use the internet to research dining options.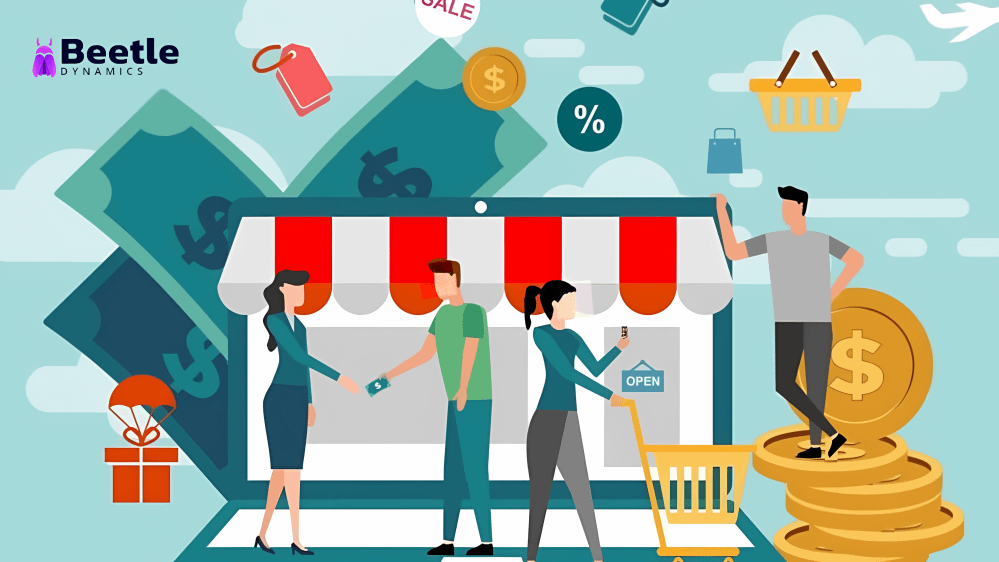 Why choose us?
Beetle Dynamics is an excellent choice for availing digital marketing services for restaurants for several reasons:
Expertise in the restaurant industry: Digital marketing services for restaurants are Beetle Dynamics'

area of expertise.

 

We have extensive knowledge and experience in understanding the unique challenges and opportunities that restaurants confront in the digital realm. This expertise allows us to create marketing plans that work well and are tailored specifically for restaurants.

Comprehensive digital marketing services: Beetle Dynamics

offers a wide range of Digital Marketing Services for Restaurants including, website development and optimization, search engine optimization (SEO), social media marketing, online advertising, content marketing, and reputation management, which can help restaurants make a strong online presence and attract more customers. We ensure that restaurants have access to all the resources they need to be successful online.

Customized strategies: Each restaurant has its own brand, target market, and marketing objectives. Because of this, Beetle Dynamics

develops marketing plans that are tailored to the unique requirements of each restaurant. We conduct in-depth research and analysis to understand the restaurant's target audience, competition, and customer preferences. This enables them to develop specialized strategies that successfully market the restaurant's offerings and connect with the target market.

Results-driven approach: Delivering measurable results for its clients is the primary goal of Beetle Dynamics

. We establish specific goals, monitor KPIs, and periodically give thorough updates on the development and effectiveness of our marketing efforts.

 

In order to maximize return on investment (ROI) for our restaurant clients, we can make data-driven decisions and continuously improve our tactics by tracking and analyzing the data.

Emphasis on customer engagement: Building trusting relationships with customers and encouraging engagement is essential in the restaurant industry. Beetle Dynamics

recognizes the value of client involvement and includes it in its digital marketing strategy. We use various channels such as social media, email marketing, and content creation to create meaningful interactions with customers. 

Keeping up with industry trends: The world of digital marketing is always changing, and new trends and technologies are constantly being developed. Beetle Dynamics

stays up-to-date with the latest industry trends, innovations, and best practices. This enables us to take advantage of cutting-edge digital marketing strategies to keep one step ahead of the competition and provide our restaurant clients with the greatest outcomes.
Services offered by us
Beetle Dynamics offers extensive digital marketing services specifically tailored for restaurants. These services are made to assist restaurants in successfully promoting their brands, bringing in fresh clients, and boosting sales through online channels. Some of the most important Digital Marketing Services for Restaurants provided by Beetle Dynamics are listed below:
Website Design and Optimization: Every successful digital marketing approach starts with a well-designed, user-friendly website. Beetle Dynamics

works closely with restaurants to create user-friendly and visually appealing websites that showcase their unique brand identity, menus, and ambience. By making websites search engines friendly, using responsive design components, and ensuring they load quickly,

Beetle Dynamics

helps their online visibility, engages customers, and drives traffic.

Search Engine Optimization (SEO): It's important for restaurants to show up first in search engine results when potential customers look for eateries online. Beetle Dynamics

uses powerful SEO strategies to make restaurant websites optimized for relevant keywords, regional searches, and voice search inquiries.

Beetle Dynamics

helps restaurants raise their search engine ranks and boost organic traffic by improving the website's meta tags, optimizing content, and constructing high-quality backlinks.

Social Media Marketing: Restaurants now have a fantastic opportunity to interact more personally with their target audience because of the rising popularity of social media platforms. Restaurants may increase brand exposure, interact with consumers, and advertise special deals or events by developing and implementing a comprehensive social media strategy with help from Beetle Dynamics

.

Beetle Dynamics

aids eateries in establishing a strong online presence on websites like Facebook, Instagram, Twitter, and others by producing engaging content, managing communities, and running targeted advertising campaigns.

Online Reputation Management: Managing and keeping an eye on what customers say is essential at a time when online reviews have a big impact on a restaurant's reputation. Beetle Dynamics

provides reputation management services to assist restaurants in maintaining a positive reputation and immediately responding to any unfavourable comments or reviews.

Beetle Dynamics

helps restaurants develop trust, increase customer happiness, and foster good online dialogues by continually monitoring online platforms and using effective answers.

Paid Advertising and PPC Campaigns: Pay-Per-Click (PPC) campaigns are one of the paid advertising options provided by Beetle Dynamics

in order to increase online visibility and attract a larger audience. Beetle Dynamics makes sure that restaurant adverts appear in prominent positions on search engines and social media channels by strategically targeting pertinent keywords and demographics. These efforts can boost brand recognition, improve instant traffic, and enhance restaurant reservations or orders.

   
Conclusion
Beetle Dynamics stands out as the leading Digital Marketing Service for Restaurants as we offer comprehensive digital marketing services tailored specifically for restaurants. Our in-depth knowledge of the industry helps us to create tactics that work to enhance online visibility, consumer engagement, and eventually revenue. Beetle Dynamics helps restaurants reach their target audience and stand out in a crowded digital environment by utilizing the power of social media, SEO, and targeted advertising. We equip restaurants to succeed in the dynamic world of digital marketing.