For remaining longer in this competition we need to publicize our brands in the growing market with Facebook marketing. Furthermore, for advertising, Facebook is the most ideal way considered in today times for the developing businesses. Assuming organizations need their brand visibility out of traffic on the sites. Then they should spend their efforts on social media, and Facebook is the best platform from all.
Facebook marketing is the most common way of advancing products and brands on the Facebook platform to reach or cover the wide range of targeted audience. Facebook marketing is one of the biggest platforms with billions of dynamic clients, making it the important channel for organizations to connect with productive customers. The scope is more extensive or wider in Facebook marketing because it is not absolutely private or professional. There is no need for sharing your personal contacts or information on Facebook but we can assemble more connections with us with the assistance of Facebook.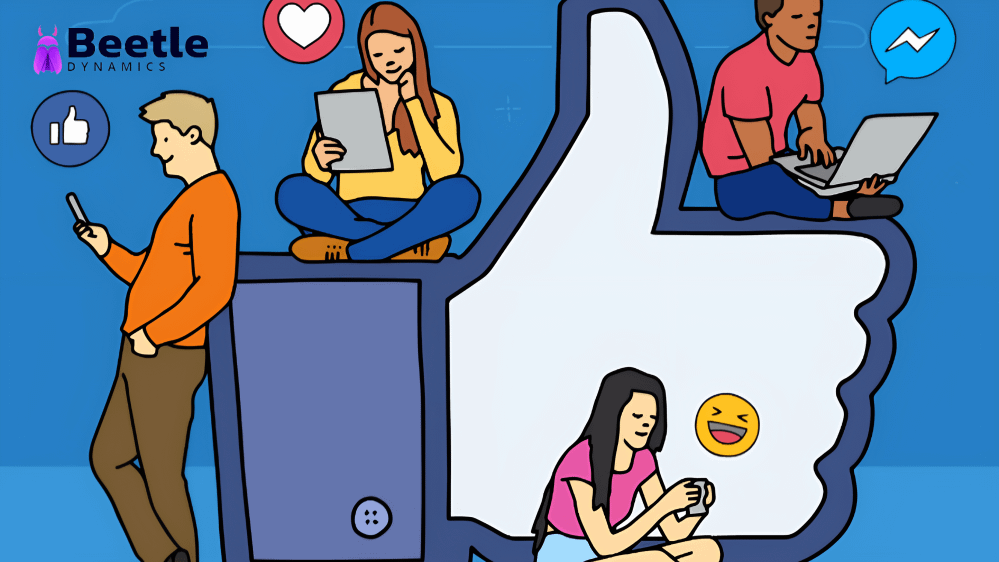 WHY BEETLE DYNAMICS?
Beetle dynamics is a digital marketing company which is expert in Facebook marketing. The active, productive and aimed members of our team help businesses to achieve their goals and online presence on various platforms. We assist businesses to rank on screen out of this traffic.
EXPERTISE AND KNOWLEDABLE:- Beetle dynamics has experience, knowledge, and skills in the field of Facebook advertisements.

 

We perform the activities which are helpful in ranking the position of the business in the market and show them different from this competition.

CUSTOMISED SERVICES:- Beetle dynamics offer customized services to businesses like they can choose the services according to their requirements, for ranking their business on the top in the market.
CREATIVE DEVELOPING STRATIGIES:- Beetle dynamics adopt creative and developing strategies for improving the performance of businesses. We make a blueprint of overall strategies to meet specific objectives and goals because we believe that an effective strategy can change a business in seconds.
EMPATHY AND UNDERSTANDING:- Beetle dynamics hire the empathic and understandable employees having the abilities of active listening, put their best, practice non- judgment, ask open ended questions, validate emotions, educate themselves, etc.
PERSONALIZATION:- Beetle dynamics focuses on personalized services, as we send personal messages, offers, new updates, etc. to reform the customers for better future opportunities.
DATA ANALYSIS:- Data analysis is the key strength of beetle dynamics. As we do proper data collection, data cleaning, data exploration, data transformation, data modeling, data interpretation, data visualization etc. By data analysis we are able to identify the best opportunities.
PRIVACY AND DATA SECURUITY:- Beetle dynamics well perform the process of security because we understand the need of privacy in this digital age, especially with the rapid use of internet or technology.
CONTINUOUS IMPROVEMENT:- The ongoing efforts for product, brand is only way to improvement that's why Beetle dynamics believe in continuous improvement. It involves the adjustments to increase the productivity and overall performance.
OUR SERVICES
Facebook marketing is one of best service, provides by Beetle dynamics. We assist business to promote and highlight their brands, with our services. We follow professional techniques to improve the virtual presence of businesses in the market.
FACEBOOK ADVERTISING CAMPAIGNS: Beetle dynamics includes making and overseeing paid promotion efforts on Facebook. We will assist you with characterizing your internet groups, set up promotions, monitor performance and optimize the advertisements for better results.
AUDIENCE TARGETING: Beetle dynamics can help with recognizing and focusing on specific target audiences segments based on choices, behavior, demographics, different boundaries etc. we help business to raise their position in the market with advertising efforts.
AD CREATIVE DEVELOPMENT: Beetle dynamics provide the help in planning and growing with new and productive ideas that line up with your image. We offer many other services like graphic design to make videos and copy advertisements to customers.
AD CAMPAIGN OPTIMIZATION: Beetle dynamics constantly monitor the performance of efforts for better future results. We analysis the data and study the area of improvement for bidding, or targeting to increase the communication between two parties.
ANALYTICS AND REPORTING: Beetle dynamics provides analysis and report to customers about their business. We have proper check on our past projects and analyses them for making better future decisions which increase the productivity of the company.
SOCIAL MEDIA STRATEGY: Beetle dynamics offer the social media services to the customers for better understanding and satisfaction. We maximize the online presence with the use of social media for better future results.
FACEBOOK PAGE OPTIMIZATION: Beetle dynamics improves your visibility of Facebook ads. Out of the traffic. We analysis the requirement for your page and suggest proper layout for top ranking.
RETARGETING COMPAIGNS: Beetle dynamics don't end there services here, we interact with our pervious websites or projects. We also perform retarget campaign for consultation and repeat visit.
CONCLUSION
Beetle dynamics is a Facebook marketing company that offers the services aimed toward helping businesses for increasing their presence and achieve their marketing objectives on Facebook platform. Throughout the above discussion, we have investigated the different points and highlights that make Beetle dynamics more effective and efficient marketing partner for various businesses. We have shown skill, expertise and great understanding of Facebook environment. Our experts are well knowledgeable in calculations, Facebook advertising tools, algorithms, and focusing on choices. This knowledgeable behavior of our team makes the services more customized which positive convert target audiences into customers. One of the vital qualities of Beetle dynamics is their capacity to develop extensive marketing strategies.
FAQ'S ABOUT FACEBOOK MAKETING COMPANY IN JAIPUR
Q.1 Which are Facebook marketing companies?
Ans. The best Facebook marketing company deals with every outlook of Facebook marketing to enhance the brand visibility of businesses in the market like Beetle dynamics.
Q.2How does Facebook advertising works?
Ans. Facebook advertisement targeted to those audience who are in the need of Facebook marketing services for growing their businesses digitally.
Q.3 Does Facebook marketing works?
Ans. Yes, Facebook marketing can be a worthwhile strategy for many businesses. Facebook marketing allows business to attract more customers, reach to specific population, or measure the performance, etc.
Read Also- https://beetledynamics.com/whatsapp-marketing-company/