Best WhatsApp Marketing Company in Jaipur– In today's digital world, businesses are increasingly using the best WhatsApp marketing company to interact with their target audience and market their goods and services. There are various channels of marketing among which Whatsapp has emerged as a powerful tool with the help of which businesses can achieve their marketing goals.
Whatsapp Marketing is that marketing in which Whatsapp messaging platform is used as a marketing tool for promoting products, services, or brands to the targeted audience. Whatsapp is a messaging app that permit users to send text messages, make voice and video calls, share images, videos, and documents. Whatsapp has become very effective marketing channel to connect with customers, enhance brand visibility, and drive engagement because it is used worldwide and has very vast user base
What are the Benefits of Whatsapp Marketing?
WhatsApp Marketing offers various benefits when utilizing a best Whatsapp marketing company/agency. It gives companies the ability to communicate with a large user base in a personalized way and offer customer support in real time, which boosts brand recoginition, customer engagement, and conversion rates. A specialized agency can also make use of its knowledge to create campaigns that are specifically targeted and guarantee that message plans are efficient for the best outcomes.
Wide Reach: Whatsapp is used worldwide with over 2 billion users which make it easy for businesses to tap into a large audience and target potential customers.
Personalized Communication: Businesses can engage with customers directly because it provides direct messaging, allowing businesses to offer tailored information, solve queries, and address customer concerns individually. It helps in increasing customer satisfaction and building strong customer relationships.
High Open Rates: Compared to other marketing channels like SMS or email, Whatsapp messages have high open rates as people check their Whatsapp messages promptly which gives businesses a better chance of getting their message read by their audience.
Rich media sharing: Whatsapp make available various type of media, including images, videos, audio files, and documents. Rich media can effectively display products and services by sharing visually appealing and engaging content such as product images, demonstration videos, or brochures.
Broadcast Lists and Groups: Whatsapp provides the feature of creating broadcast lists and groups to send messages to multiple recipients at the same time. Businesses can save their time and efforts by sending promotions, updates, or announcements to a specific group of customers to whom they want to target.
Cost-Effective: Whatsapp Marketing is very cost-effective than traditional advertising methods. Businesses need only internet connection to send messages on whatsapp because it is a free messaging app which reduces other expenses that are associated with SMS or phone calls.
Two-Way Communication: Whatsapp provides interactive communication which enables businesses to receive feedback, suggestions, and inquiries from customers helping businesses better understand their customers.
Easy Integration: Whatsapp provides integration options which allows businesses to connect it with their existing CRM systems, chatbots, or customer support platforms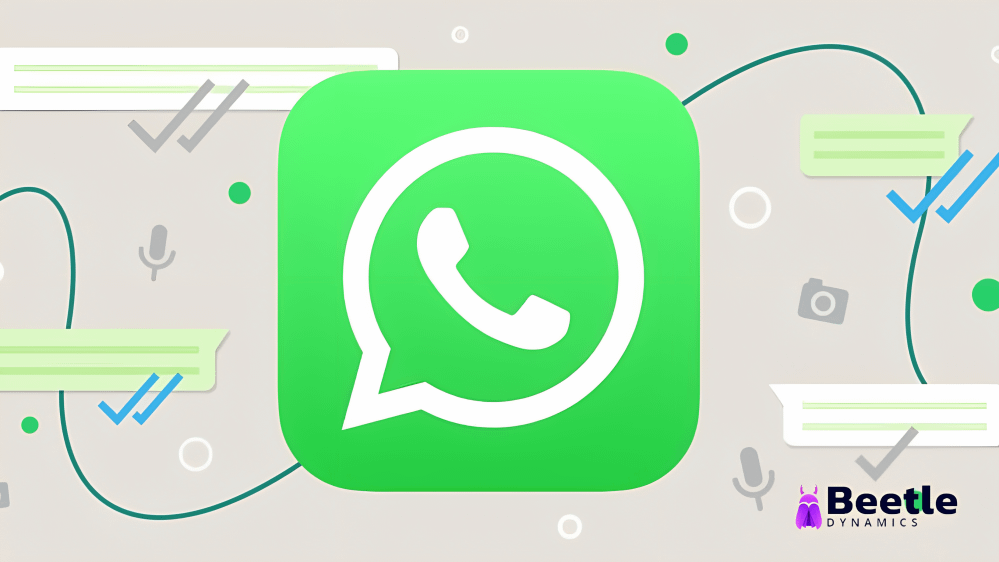 Why Beetle Dynamics is best Whatsapp Marketing Company?
Among the various WhatsApp marketing company in Jaipur, Beetle Dynamics shines as the best WhatsApp marketing company, providing innovative solutions tailored to increase businesses' online presence and promote client engagement.
Cutting-edge Whatsapp Marketing Strategies for Every Business: Beetle Dynamics

helps clients make engaging content, interactive campaigns, and provide targeted messages that resonate with the audience by using cutting-edge strategies.

Personalized approach: Focus on personalized marketing is the key strength of Beetle Dynamics. We help businesses to send personalized messages, product updates, offers, and more, directly to the smartphones of customers because nowadays customers prefer those businesses more who deliver unique experience.
Robust Automation Tools: Efficiency and scalability are very important for making a marketing campaign successful. Beetle Dynamics provide robust automation tools which allow businesses to schedule messages, set up automated responses, and manage large campaigns to optimize the marketing process of Whatsapp.
Comprehensive Analytics and Reporting: It is very important to track and analyze key metrics to measure the effectiveness of Whatsapp marketing campaigns. Various comprehensive analytics and reporting tools are provided by Beetle Dynamics that offers businesses to have valuable insights into campaign performance and measure the results.
Exceptional Customer Support: Effective communication and instant support are very crucial for making marketing campaign successful. Customer satisfaction is the top priority of Beetle Dynamics. We offer prompt customer support, address doubts, provide guidance and resolve issues that may occur during the journey of Whatsapp marketing.
Services offered by Beetle Dynamics.
Beetle Dynamics is a multifaceted digital marketing agency that provides a wide range of services to support businesses in their online endeavours. They offer the following services, concentrating on Whatsapp marketing services:
Whatsapp Personalized Messaging Campaigns: Beetle Dynamics

offers customized messaging campaigns that resonate with the target audience to ensure higher engagement and conversions because personalized communication is very important to retain the customers.

Whatsapp Bulk Messaging: Beetle Dynamics provides bulk messaging service to the businesses who are looking to reach a large number of audience. We have the infrastructure and technology with the help of which messages can be sent in bulk while adhering to the guidelines of Whatsapp.
Whatsapp Interactive Chatbots: Beetle Dynamics

develops interactive chatbots for businesses by using the power of AI and chatbot technology. These chatbots are responsible for handling customer doubts, provide information, and even assist sales transactions, ensuring all time presence and increased customer satisfaction. 

Whatsapp Lead Generation: Beetle Dynamics follow strategic lead generation techniques to identify and target potential customers. By using Whatsapp we create targeted campaigns that generate quality leads and increase sales.
Analytics and reporting: Beetle Dynamics provides comprehensive analytics and reporting for Whatsapp marketing campaigns because we understand the importance of data-driven decision-making for the businesses.
Conclusion:-
Whatsapp marketing has emerged as a powerful tool for businesses who are looking to target their customers effectively and brand promotion. If you are looking for a reliable and results-driven Whatsapp marketing company in Jaipur, Beetle Dynamics is the best choice for sure. By choosing Beetle Dynamics for availing the Whatsapp Marketing services businesses can unlock their full potential, boost their brand presence, and engage with their target audience effectively.
Also, Read- https://beetledynamics.com/best-social-media-marketing-company-in-jaipur-beetle-dynamics/